When it comes to home exterior design, everyone seems to have an opinion. Friends, family, and even complete strangers feel perfectly comfortable giving their two cents on what color you should paint your house, which type of roofing material is best for you, and whether a porch is necessary.
It can be hard to know where to start and who to trust when making decisions about your home's exterior. But never fear — the professionals are here! Whether you're planning a total overhaul or just a few cosmetic touches, here are some tips to help you get started.
1. Consider Your Curb Appeal
First impressions matter, so take a good look at your property and imagine what someone driving by would see. If your yard is full of weeds, your paint is chipped, and your windows are covered in cobwebs, it might be time for an update. Just a few simple changes can significantly affect how your home is perceived. Here are a few ideas to get you started:
Mow the lawn and trim the hedges
Pull up any weeds and add some mulch or stones for decoration
Wash your windows and doors
Add a pop of color with fresh paint or flowers
2. Think About Functionality
It's not enough for your home to look good; it also needs to be functional. Potential buyers will likely be turned off if your front door is difficult to open or your driveway is full of cracks. Address any problem areas and ensure everything is in working order before putting your home on the market.
You should also take a close look at your siding. If it's damaged or old, it could be costing you money in energy bills. Experienced siding contractors can help you choose the best material for your home and budget and install it properly. So, if you're planning to sell your home soon, it's worth investing in new siding.
3. Get Creative with Lighting
Proper lighting is important for both curb appeal and safety. In addition to ensuring your walkways are well-lit, you can also use lighting to highlight certain features of your home. Landscape lighting can be used to accentuate your home's architecture, and solar lights are a great way to add light without increasing your energy bill.
You can also use light to create a warm and inviting atmosphere. String lights across your porch or patio, or add lanterns to your front steps. Candles are another option, but be sure to blow them out before going to bed or leaving the house.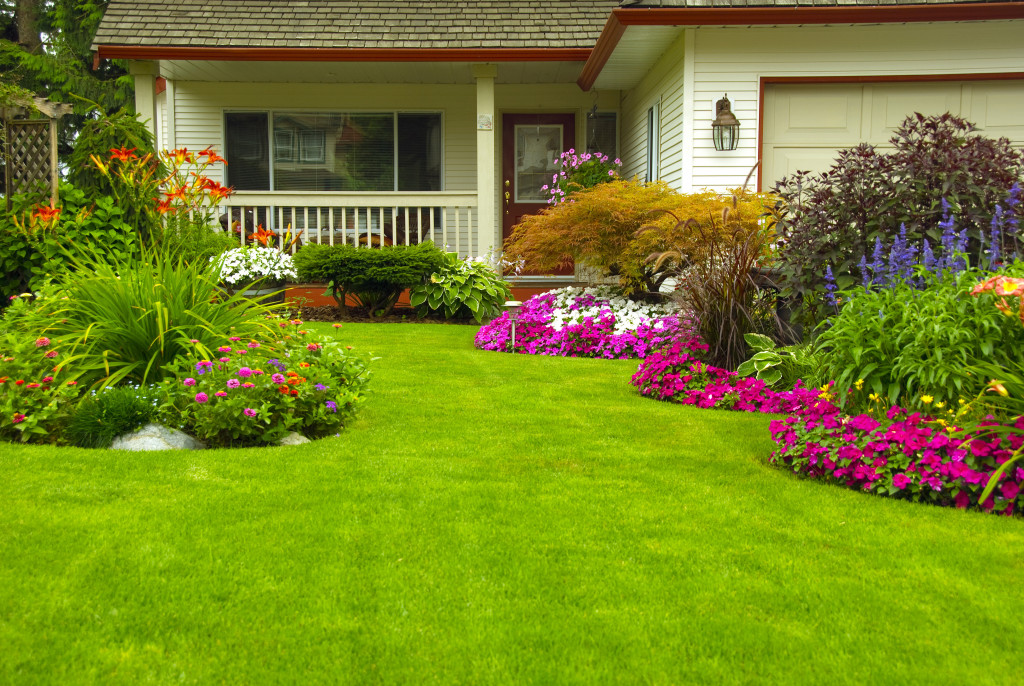 4. Don't Forget About Your Roof
Your roof is one of the most important components of your home, so it's important to take good care of it. Inspect your roof regularly for missing or damaged shingles and make repairs as needed. You should also have your roof cleaned every few years to remove any built-up dirt and debris.
If your roof is nearing the end of its lifespan, it's a good idea to start planning for a replacement. There are many types of roofing material on the market, so do your research to find the best option for your home and budget. You can also consult with a roofing contractor to get expert advice.
5. Pay Attention to Detail
The little things matter just as much as the big things regarding exterior design. Do you have peeling paint or missing shingles? Are your gutters dented or rusty? Replacing these small items will go a long way in making your home look its best.
You should also take a close look at your hardware. Replacing old, worn-out door handles and light fixtures can give your home an instant facelift. And don't forget about your mailbox! A new mailbox can add curb appeal and make your home more inviting.
6. Incorporate Your Personal Style
Your home should reflect your personal taste and style, so don't be afraid to express yourself! If you love color, consider painting your front door or adding some brightly-colored flowers to your landscaping. Or, if you prefer a more understated look, stick with classic neutrals like black, white, and gray. Whatever you choose, make sure it reflects who you are as a person.
No matter what style you prefer, there are endless possibilities when it comes to exterior design. So, get creative and have fun!
Designing the perfect exterior for your home can be daunting, but following these tips from the pros will help you get started on the right foot. And remember, there's no such thing as a perfect home—the most important thing is that YOU love the way it looks!