The fashion business is expanding right now, and with the advancement of technology, individuals have grown pickier about what they wear. Fashion has evolved dramatically with the advent of social media, and users may now obtain the latest trends as soon as they reach the runway. To distinguish out from the crowd, the younger generation searches for new trendy clothes.
Designers embrace new technology to push the boundaries of manufacturing, production, and marketing in the fashion industry. Artificial intelligence, mobile commerce, 3D printing, and other cutting-edge technologies are used in the fashion sector.
We've compiled a list of some top-notch technological breakthroughs in the fashion industry today. So let's dive in!
The Influence of Artificial Intelligence
AI is now transforming the fashion industry in all aspects of its value chain, including design, production, shipping, marketing, and sales.
Fashion businesses are increasingly interested in AI and machine learning to improve user shopping experiences, increase sales system efficiency through intelligent automation, and optimize sales processes through predictive analytics and guided sales processes.
The fashion industry is currently at a fork in the road. The use of digital technologies such as mobile internet, sophisticated analytics, virtual and augmented reality, advanced robotics, and artificial intelligence, among others, is critical to the fashion industry's success.
The Use of Novel Fabrics
Novel materials are probably the future of fashion, as they provide yet another method for designers to differentiate themselves while also appealing to consumers as a sustainable alternative.
All the evidence suggests that eco-leather is not a particularly environmentally friendly alternative. For instance, certain startups are tackling this by developing lab-grown leather that does not kill animals, while others are developing super-strong spider silk.
ColorFab 3D is one of the most recent interactions in printed things that change color. This method uses "photochromic inks," which change color when exposed to UV light at certain wavelengths. The ring, which can be programmed into various colors, was one of their initial products.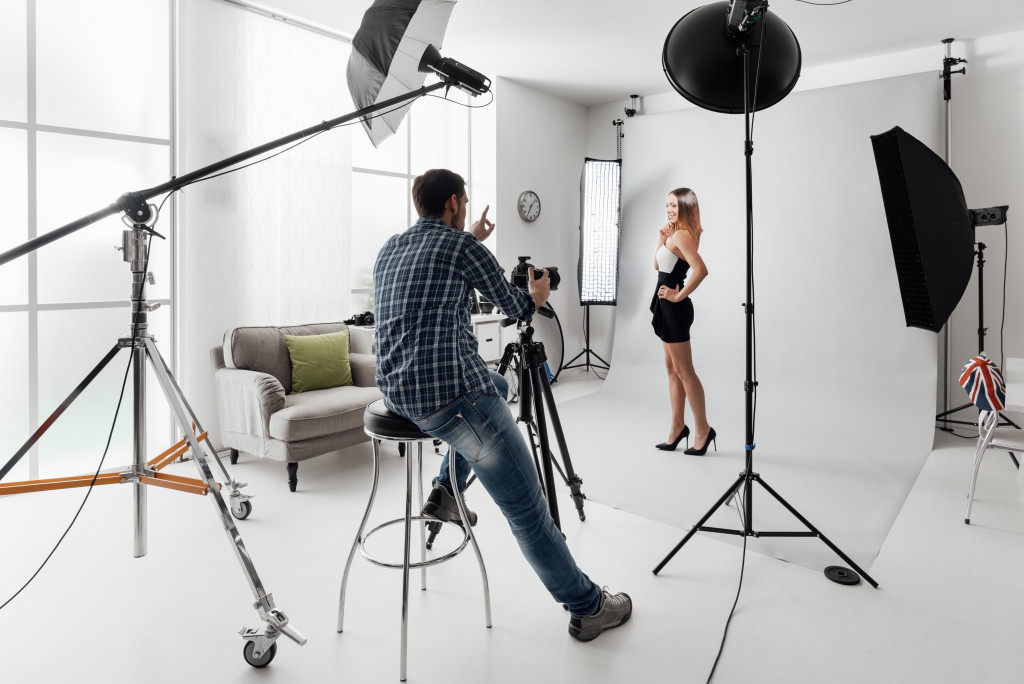 The Rise of Wearable Technology
This technological trend allows us to embed sensor, multimedia, and wireless communication technology into people's apparel and clothes. And they work with gestures and eye movement operations.
The introduction of wearable gadgets like smartwatches and fitness trackers has become a visible technology trend in the fashion business.
Techy firms are now focused on activity trackers and sensors into attractive pieces of jewelry, notably trendy rings, bracelets, and watches, by using and integrating diverse materials and precious metals.
Fashion designers are now attempting to combine numerous forms and functions to make wearable more fashionable and functional. Rings, connected bracelets, and necklaces are being created by several fashion businesses and startups.
Augmented Fashion Shows
When purchasing clothing online, customers must often picture how things would seem when worn in real-life situations. This might make it difficult for them to make informed purchase selections.
The use of augmented fashion shows a novel immersive experience that allows customers to generate individualized 3D models of themselves.
Furthermore, based on the real-world surroundings, the models are supplemented with animations. Customers can view a depiction of themselves dressed in various outfits and understand how they might seem in real-life situations.
However, you should always remember that music is the heart of a fashion show. So if you're arranging a fashion show that goes big and leaves a lasting impact, you should consider employing the best audio-visual solutions. They can bring your creations to life.
The Importance of Fashion E-commerce
In today's world, smartphones are seen as cool and vital tools, but they are also the most crucial backer of e-commerce. Consumers may quickly explore the market for simple online buying with digital payments.
Shoppers have recently prioritized buying online, citing ease and less struggling time as justifications. Because of the importance of technological innovation, the fashion industry has changed its attention to developing mobile applications that are easy to use and assist buyers in making online purchases.
Technology automates or enhances every facet of the business, from the drawing board to the shop shelf, allowing for faster manufacturing, better inventory management, and a greater selection of online and in-store retail experiences.
As a result of this, the industry will become more streamlined while providing more alternatives than ever before. Brands will increasingly provide hyper-personalized products and experiences thanks to a slew of new production techniques, distribution channels, and even raw materials and textiles.