"We don't make mistakes, just happy little accidents."
Those are the wise words of Bob Ross — American painter, art instructor, television host, and every artist's best friend. Known for his fast and simple "wet-on-wet" painting technique, he reached the hearts of art lovers all over the world with his popular TV program, The Joy of Painting.
The instructional program premiered in 1983 on PBS, where it would run for over a decade and attract millions of viewers, including those who wondered if Bob Ross's original paintings would ever be put for sale by PBS. As a TV painting instructor, Ross was known for his warm baritone voice, gentle demeanor, and light humor as well as his ability to complete beautiful landscape paintings in 30 minutes.
The Joy of Painting became so popular that it was eventually carried by more than 275 TV stations, spawning an empire that included art supplies, how-to books, and certified Bob Ross instructors. He inspired kids and adults alike to paint their own masterpieces, creating their own "happy little trees" and "charming little cabins."
With the legacy he left behind, it's no wonder that many of us have thought about buying an original Bob Ross painting. After all, they're almost mythical in stature. Owning a genuine piece of artwork by the iconic artist is almost equivalent to owning a historical pop culture artifact.
But just how much does an original Bob Ross painting cost and how can you buy one?
What's the price of a Bob Ross painting?
To find out how much a Bob Ross painting is worth, as with any artist, several things come into play:
Provenance
This refers to the documentation that authenticates a particular artwork. In other words, the piece needs to be proven that it's an authentic Bob Ross painting.
If you want to find an original Bob Ross painting, you're going to need a lot of luck. When you open up Google and type in something like, "buy Bob Ross painting," you'll be greeted with pages filled with replica paintings. These are made by people who probably paint them in their living room, following Ross's instructions, and expecting to earn a pretty penny after they find online guides on how to frame a canvass painting. So, if you see a suspicious-looking Bob Ross artwork that's under $500, it's most probably fake.
Consumer Demand
When Bob Ross was still alive, PBS stations across the country auctioned his paintings off and made a happy buck with them. But PBS stations right now won't fess up to having a Bob Ross painting for sale, so acquiring one from them is an impossible task.
Those who already own one in their possession simply don't want to part with it and if you do find one who's willing to sell, save up as the painting's going to cost a hefty buck.
Rareness
Since there are over 30,000 Bob Ross paintings, the value depends on the popularity of a specific painting. Some paintings such as the Mountain Summit and the Meadow Lake cost over $18,000 each on eBay. But since it's just on eBay, there's a probability that they're fake and you'll just be blowing off money on a replica.
In the rare cases that you do manage to find an authentic Bob Ross painting, Joan Kowalski, president of Bob Ross Inc., expects it to sell for at least $8,000 to $10,000.
How Do I Find Out if a Bob Ross Painting is Authentic?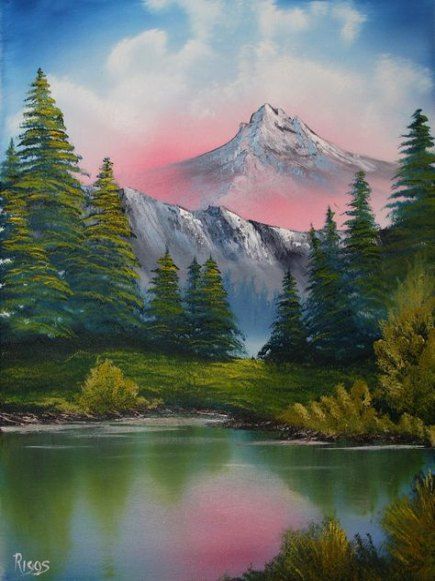 If a painting is a Bob Ross original, the owner is provided with a certificate by Bob Ross Inc. attesting its authenticity. Annette Kowalski authenticates paintings sent in person to the company.
Annette Kowalski is the woman who discovered Bob Ross and is also his former manager. She first met Ross at a painting class in the early 1980s and admitted that she was mesmerized by the soothing-voiced artist, following him around as he instructed other students instead of focusing on her own painting.
She later convinced the still-unknown Ross to teach a class in Northern Virginia. It wasn't long before they advertised for the class in a TV commercial and the station manager saw star potential in Ross.
Kowalski said that she knows a true Bob Ross original painting by inspecting the brushwork and other signs of Ross's hand. She also looks for a specific detail in the quality of his signature that she refuses to disclose.
If you find a seller on eBay who's selling a Bob Ross painting at a reasonable price, ask to see the certificate. If they refuse or they don't have one, they're most probably selling a replica.
Where Else Can I Buy a Bob Ross Painting Aside from eBay?
There's no other way to say this but: You can't.
Aside from those sold in auctions years past, almost every Bob Ross painting to exist now lives in a Bob Ross Inc. warehouse in Herndon, Virginia. They're not on display, but carefully stacked in numbered cardboard boxes – all the landscapes, snow-capped peaks, and happy little trees. We'd wager there are enough lakes, mountains, and happy little trees in Bob Ross Inc. for it to be designated a national park.
No one knows why they don't want to sell the paintings, but it probably has to do with the fact that Bob Ross never really wanted his artworks to be capitalized on. He only wanted recognition for his talent, and he achieved that with his TV program. If he were alive right now, it's highly unlikely that he'd approve of his paintings being sold at thousands of dollars.
Bob Ross Paintings in the Smithsonian National Museum of American History
The oil landscapes housed at Bob Ross Inc. may not be available for purchase, but the company did donate a selection of artwork and artifacts to the Smithsonian's National Museum of American History. Some of the items include a 1988 canvas titled "On a Clear Day," a 1994 painting titled "Blue Ridge Falls," handwritten notebooks, the easel Bob Ross used during The Joy of Painting's first season, and fan letters written to him before and after he died of lymphoma in 1995.
Currently, the American History Museum has no plans to permanently exhibit the acquisitions. However, the artifacts, which are now part of the museum's permanent collection, will be featured alongside the work of other American icons such as Mr. Rogers and Julia Childs.
A bunch of other Bob Ross fan merch you can buy
If you're a longtime fan of the painter, there are lots of other things you can buy aside from Bob Ross original paintings — at a fraction of the cost. We've rounded up some of the most lovable Bob Ross merchandise that you can display in your home or use in your everyday activities.
Happy Little Accidents
Compiled by Michelle Witte
Happy Little Accidents is a delightful collection of Bob Ross quotes, full of encouraging words and insightful wisdom. The book also includes an introduction and a biography of the famous painter. Some of his gems include:
"We put some dark in, only so our light will show. You have to have dark in order to show light."
"If we all painted the same way, what a boring world it would be."
His wise quotes about life — masked as instructions for painting — are paired with high quality photographs of his oil paintings.
Buy it online here.
Bob Ross Funko Pop
Fans of the late artist/TV personality can play with a tiny and pocket-sized Funko in his image. The vinyl figurine depicts Ross dressed in his trademark button-down shirt and jeans, holding a painter's palette. They also have versions of him with a giant paint brush and a raccoon.
Purchase Funko Bob Ross in all his bushy-haired glory here.
Bob Ross Heat Changing Mug
Just pour some hot liquid into this mug and watch the canvas turn from black into a calming nature scene with trees and bushes. On the opposite side of a painting, there's a block of text that says: "There are no mistakes, only happy accidents."
Buy it online here.
Bob Ross the Art of Chill Board Game
Did you know a Bob Ross board game existed? Well, if you didn't, you're in for a treat. Bob Ross the Art of Chill is a fun tabletop game that can be played by 2-4 people. Your objective is to finish one of Bob Ross's artworks using brushes and colors from your hand of cards to win the coveted "Chill" status. The more things you paint, the more chill points you earn!
Find it online here.
Bob Ross was a legend in every sense of the word. Even after his death in 1995, he remains one of the best-known American painters today. Many people have taken on the quest of hunting down an authentic Bob Ross painting, only to be overwhelmed by the price or end up empty-handed. If you do intend on buying one in the future, make sure you have big bucks to shell out and ask the seller for a Certificate of Authenticity.
But if you can recreate one for yourself, even better. Ross's whole shtick was encouraging people to make their own art, not spend hours and dollars trying to buy his art. Gather the confidence to pick up a brush and a palette today.
As Bob Ross would say, "All you need to do is just practice a little."