K-pop, a shortened form of Korean popular music, originates from South Korea and is an integral part of its culture. This genre incorporates pop, electronic dance, hip hop, R&B, and experimental rock on top of traditional Korean music elements. The phrase "K-pop" started to be used during the 2000s when it gained recognition worldwide.
One of the most popular K-pop bands is BTS. They debuted in 2013 and have released many chart-topping singles, albums, and tours. BTS is known not only for its catchy music but also for its unique identity, which includes the iconic BTS logo.
BTS
BTS, or the Bangtan Boys, is a Korean pop group formed in 2010. The acronym BTS stands for "Bulletproof Boy Scouts" when translated to English from its native language of Korean. This multi-talented 7-member team consists of Jin, Suga, J-Hope, RM, Jimin, V, and Jungkook, who all collaborate on writing and production for their music together.
Beginning as a hip-hop group, this band has developed its music to encompass various genres and topics. The thoughtfully crafted lyrics provide insight into difficult issues such as psychological problems among school kids, self-adoration, and sorrow while referencing literature, philosophy, and psychology in their discography. Furthermore, the group invented an alternate universe narrative that adds complexity to the entire story behind its work.
BTS Logo
BTS's international fame has always made rebranding an event. For their 2017 logo, BigHit Entertainment enlisted a top Korean design agency to create the perfect visual identity for them. It took almost a year of meticulous effort from BTS members, management staff, and focus group interviews! The creation of the logo highlighted the importance of graphic design.
Symbolisms in the BTS Logo
The group revealed its latest logo in 2017. It symbolized and embodied the group's mission: "Protecting Youths from Prejudice." The emblem was also an homage to their devoted fans, signifying that BTS now stood for "Beyond The Scene."
With this new visual representation, they sought to empower young people by inspiring them to chase after their dreams without compromising on what they wanted in life.
Incorporating such symbolism requires knowledge about the psychology of color. The BTS ARMY and BTS emblem was carefully crafted to reflect sophistication through a single stroke of black.
The text is shaded with silver for added luminance, creating a pleasing effect. This simple yet effective design makes ARMY and BTS stand out from their competitors without appearing too flashy or overdone.
Evolution of the BTS Logo
The original BTS logo showcased a black bulletproof vest with "BTS" in either white or silver. This particular design was meant to represent the concept of 'firepower,' which fits well with their name, as Bangtan Sonyeondan is aptly interpreted as "Bulletproof Boy Scouts." Thus, it made perfect sense for them to adopt this image on their emblem.
Initial BTS Logo
As BTS was introduced in 2013, there have been four logos for the group. The initial bulletproof emblem was deemed the band's official logo until 2017, when the ARMY and BTS door insignias came into effect. Although not formally sanctioned, the second and third logo iterations still featured heavily on merchandise items.
An overload of intricate details made the initial design appear untidy. The bulletproof vest was covered in illustrations and "BTS" embellished across its surface, with a lightning bolt on either side surrounded by outward spikes forming a circular shape around the exterior.
The initial design was quite chaotic due to its intricate details. The bulletproof vest featured multiple images on its exterior, including the BTS inscription. Adjacent to it were two lightning bolts encircling with outward spikes that created a round pattern around the whole garment.
2016
The logo for the 2016 rendition of the group was unlike any seen before it. Four circles, each with its unique texture, served as a backdrop to lettering that read "Wings" in black ink below them.
The Wings logo is the most intricate of all BTS logos due to its abstract nature and distinct patterns. Many people used to believe it was simply a conglomeration of circles without any significance.
However, after BTS revealed the individual symbols for each member, they reassured fans that nothing about their work was 'normal.' In actuality, this emblem represents every bandmate in an abstract format. But as expected from dedicated followers of BTS, there are multiple hypotheses regarding how exactly the symbol came into existence!
2017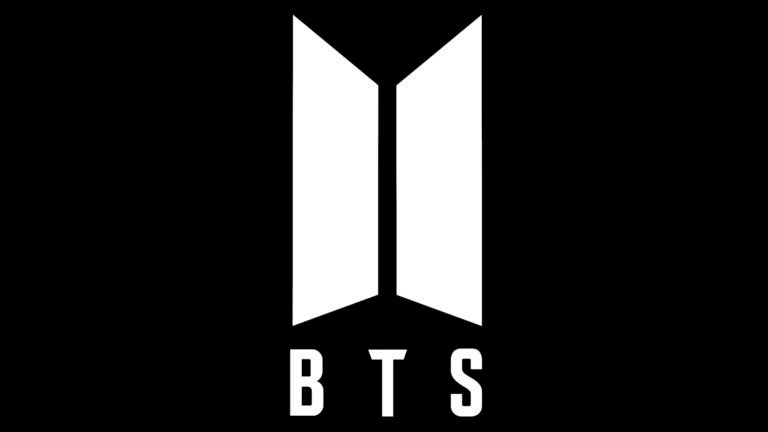 BTS unveiled a vivid blue symbol exhibiting four empty ellipses that crossed over each other in 2017. "You Never Walk Alone" and "Wings" were inscribed beneath the image on two separate lines, further conveying its powerful message of resilience and support.
Businesses can take a page from this if they plan to create a business website. They should incorporate their values and principles in the website logo they want to use.
Latest Logo
The latest logo featured two sets of trapezoids, one stacked on the other, creating a modern-day logo. These two shapes represent an interior and exterior view from half-open doors in a beautifully symmetrical pattern.
Elements of the BTS Logo
The BTS logo consists of several elements that work together to create the group's visual identity.
Logo Symbol
The BTS logo showcases two trapezoids representing doors, signifying the idea of "ARMY gathering with BTS at their metaphorical gates." The emblem displays "us and army becoming one together" – united in harmony and love.
Logo Color
The designers decided to use a sleek black for the logo, creating an aura of sophistication with subtlety. The words ARMY and BTS are scripted in silver to provide a touch of radiance.
Logo Font
The logo's typeface may seem like a classic sans serif at first glance, but upon closer inspection, you will notice the letters were slightly altered. The "B" and "S" feature gentle curves, while the apex of the letter "T" has also been cut to add an extra stylish flair.
BTS Army Logo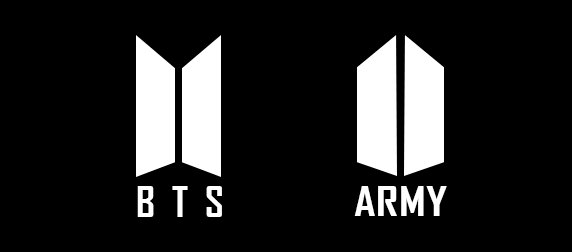 The BTS and ARMY logos unite to form a bulletproof shield, embodying the strength of their connection. Featuring two trapezoids that appear like open doors opening inwards and outwards, this combined symbol reflects how both parties assemble at the doorway. When they join forces together as one, nothing can break them apart.
As expressed by BTS on Twitter about the logo: "us and army becoming one." This robust design speaks volumes for how much love is shared between BTS and their beloved ARMY – an unbreakable bond that will always remain strong.
The BTS logo is a powerful symbol of strength and unity between the band members, their fans, and anyone who stands with them. It conveys an important message about resilience in the face of adversity and encourages people to boldly pursue their dreams without compromising on what they want out of life. The thoughtful design elements incorporated into this emblem are based on psychology and graphic design principles that emphasize sophistication through minimalism. With its meaningful symbolism, it's no wonder why the BTS logo has become so iconic!